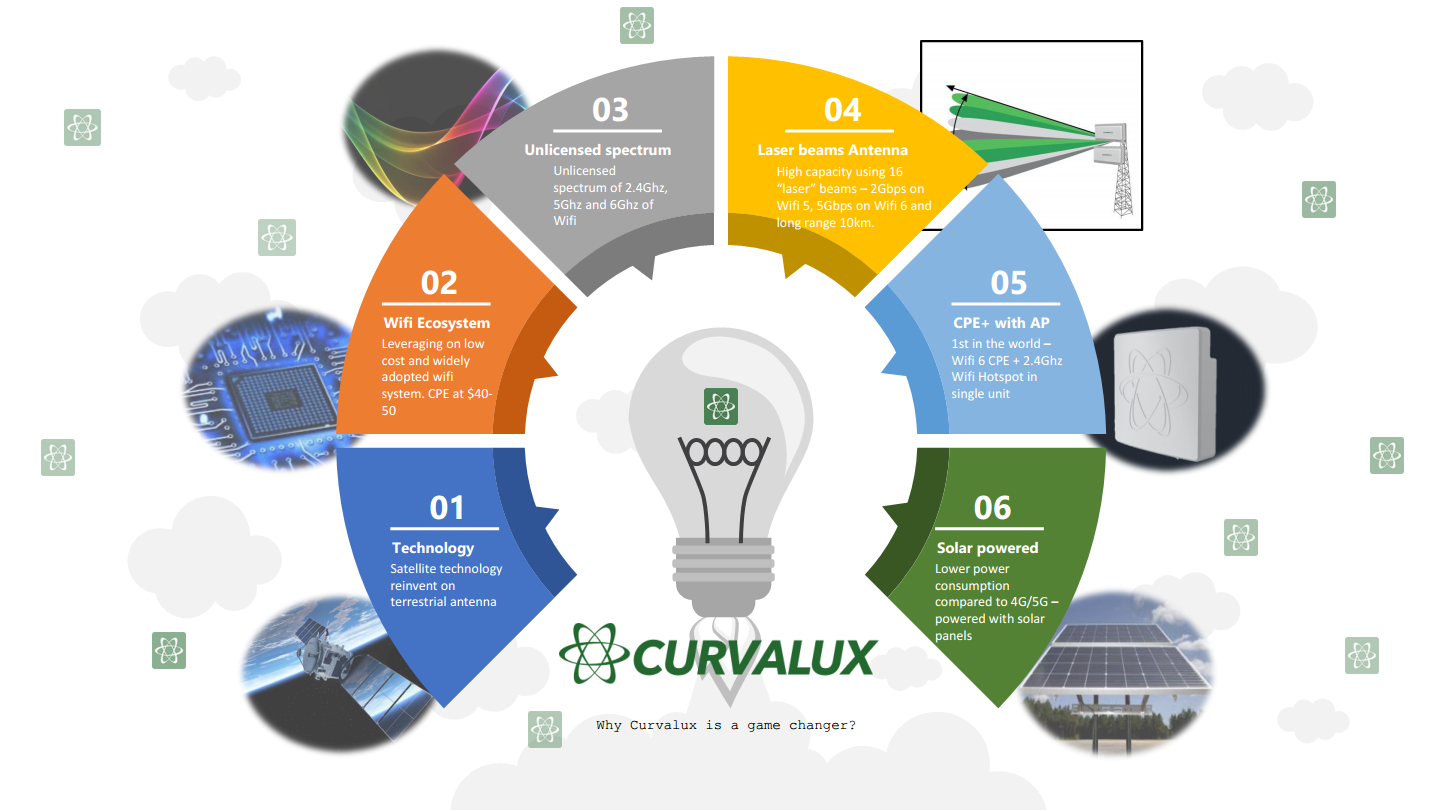 Being involved in the same "AirSpace Internet eXchange" group of companies, ASIX is now fully equipped with most exciting and recently invented wireless called "Curvalux" which is ready to deliver bandwidth in Gbps of capacity. Riding on "Unlicensed" band,Curvalux "Multi-beam" technology is the only solution available in the world which can deliver up to 16Gbps of bandwidth to your target areas. Comparing the TCO (total cost of ownership), Curvalux wireless technology is providing most cost effective solutions for the Telco's all over the world who are facing a serious challenge to carry bandwidth to their intended areas.
High Capacity using 16 "Laser" beams – 2Gbps on WiFi 5 and 5Gbps on WiFi 6 and long range of 10km.
16 seven-degree beams with high side lobe reduction reduce "interference" and increase the "C/I" ratio.
Using unlicensed spectrum of 2.4GHz, 5GHz and 6GHz on WiFi leveraging on low cost and widely adopted WiFi system.
Major features:
5-27.5GHz, 26.5- 29.5GHz, 31GHz , 37-40Ghz
Modular and scalable sector architecture,  
Up to 32 beams per 120 degrees sector. 
Dynamic load balancing beam management
Up to 40Gbps total throughput per sector 
Very High spectral efficiency 80Bit/sec/Hz/sector. 
Long distance and high availability, Up to 60dBm EIRP per beam
Peak capacity of 2Gbps per user (over 160MHz channel)
Low power consumption, dynamic energy-saving mechanisms. 
"Pay as you grow" scalable site deployment dependent on customer penetration rate.
Up to 10 km range (high EIRP and parabolic antenna on CPE) rain zone and availability dependent
Integrated FWA and backhaul